I saw this car today behind the Emirates Towers in Dubai. Sorry about the bad quality of the picture, it took me a little while to figure out it might be a prototype of a future Infinity and it was hard to take the picture while shifting gears (was driving the Aston).
[CLICK PICTURE FOR LARGER IMAGE]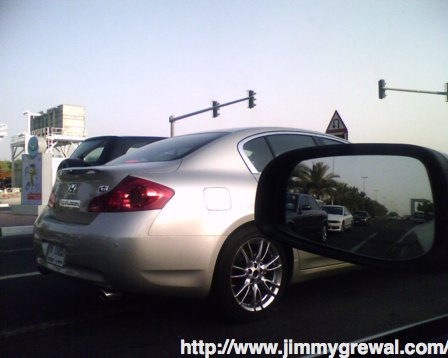 At first I thought someone had played a joke on the owner of the car because the Infinity badges were covered up and someone had drawn a Hyundai logo on it instead…but then I noticed that the Infinity logos on the wheels were also missing. When I got home I did a little search on the Internet to see whether my hunch was right, and sure enough I found some other pictures of a similar G35 prototype…which seem to have been taken at the Jebel Ali Free Zone in Dubai.
The main differences I can tell are that the twin exhausts are now separated on either side of the rear apron, the more rounded rear with integrated spoiler, and new location of the G35 badge further up on the trunk lid.
EDIT: Turns out this is a 2007 G35 sedan which will be publicly unveiled in September, followed by a new coupe which might be a 2008 model year vehicle.