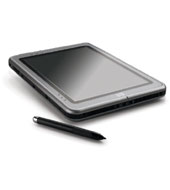 After much thought and consideration, I have replaced my Acer TravelMate C110 convertible tablet pc. This model had the benefits of being a regular laptop which had a rotating screen which allowed it to convert into a Tablet PC. This was my second tablet after the original Toshiba Protege 3500 which I had while I worked at Microsoft. It has now been replaced with an HP Compaq TC1100 Tablet PC
There are several reasons why both the Toshiba and the Acer were not suitable for my needs and the HP is better:
My primary laptop is a 17″ PowerBook G4 from Apple, and there is no Windows compatible laptop on sale today which even approaches Apple's products in terms of design, style, build quality, and features. Apple has been building the best portable computers for fifteen years and there is no sign of the competition catching up.
I need a Tablet PC primarily to take notes in meetings, not as a full featured laptop (that's what my PowerBook is for). Both the Acer and the Toshiba were not machines which I enjoyed carrying around in my hands. They are too thick, too ugly, and the battery life was less than I would have liked.
The HP is very well designed, almost as good as what Apple builds. It is sleek, feels well built, light, thin, and isn't covered with ugly stickers. It has decent battery life, Bluetooth, WiFi (upgraded to 802.11a/b/g), and a detachable keyboard.
The other Tablet PC models I considered before selecting the HP were the following:
Fujitsu-Siemens Stylistic ST5010. I decided not to purchase this model because it is not stocked by dealers in Dubai and has a 3-5 week lead time, and is Dhs. 3000 more expensive for a similar config to my HP (approx US$800).
Motion Computing M1400. I really like this model, but it is not sold in Dubai. It also costs about US$ 500 more, has no fan (so it gets pretty warm), and the attachable keyboard is not as solid as the one from HP. The two features of this model I really like are the fingerprint scanner and array microphone.
Tatung TTAB-B12D (also sold as the Electrovaya Scribbler SC2010 in the US). Again, this model is not sold in Dubai. It is very similar to the Motion M1400, but lacks the array microphone. On the plus side, battery life is claimed to be in the 6-9 hour range! Yikes.
I've had the HP TC1100 (Centrino 1.0 GHz, 1024mb RAM, 40gb HD) for nearly ten days and I'm still convinced I made the right decision. I was at first concerned that I bought something that was already nearly ready replacement with a newer model, but the delay of the ultra low voltage version of the Dothan processor from Intel meant that it's unlikely to see any major improvements in slate Tablet PC's until early next year. By then I'll have found an excuse to replace the HP!
I've found some great resources for Tablet PC owners over the past few weeks: